Trick or Treat,
Smell my feet.
Give me something…
good-for-me to eat!
I promise, I am not the witch who stole Halloween. I will not take away the kids' hard-earned and beloved candy. However, after attending our third Halloween party in two days, two weeks before Halloween, I realize that it is time to try to counteract the sugar-rush and supplement those fun-size candy bars with some more nutritious treats. (In the spirit of full disclosure here, I also need to save myself from myself. In just two days I have consumed enough Milky Ways to orbit Earth and am taking the first step in admitting I have a problem…)
It is no surprise when the Halloween party spread contains 95% sugar, because who doesn't love pumpkin everything? However, along with too much of a good thing, too much sugar also results in sugar-crashing, over-exhausted kids.
A quick consult with my personal Fairy Godmother, aka Pinterest, produced a goody bag full of easy, nutritious festive treats to bring to parties, pot-lucks, or to simply add a festive flair to your kids' lunch. Granted, you won't be handing out perishable or hand-made food to trick-or-treaters, and there is nothing wrong with splurging for special events. However, pretzels, squeeze pouches, and raisins do make a welcome treat for weary little pirates and princesses. Also, don't forget about the Teal Pumpkin Project initiative.
My treat to you: 13 super simple (because I know you are a busy mom!) and kid-friendly Halloween goodies.
1. I whipped this one up in under 5 minutes. You could add any fruits or veggies, of course!
2. These adorable and oh-so simple banana ghosts and clementine pumpkins from One Little Project will be a huge hit.
3. Try these simply sweet Frankenstein Snack Cups from Sparkles to Sprinkles.
4. These adorable mummy pouches from The Nerd's Wife would also be great to hand out to trick-or-treaters!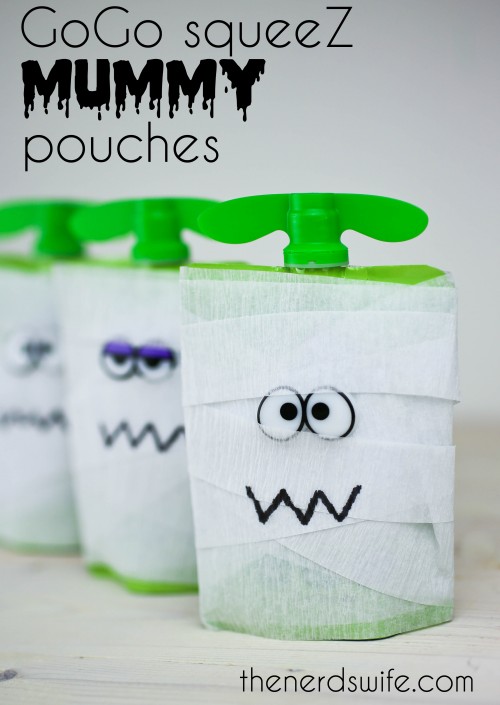 5.  The perfect party snack: candy corn fruit skewers from Super Healthy Kids.
6. These cheese stick brooms from Blommi are so clever and cute!
7. The kids are going to go crazy for this delicious candy corn treat from Suburbia Unwrapped.
8. It really doesn't get any easier than these fruit cups from The Sweatman Family.
9. Or these cheese sticks from Bolling With Five. It is amazing how excited the kids get for this!
10. There is nothing itsy bitsy about the flavor of these spider crackers from La Jolla Mom!
11. It's a wrap with these mummy apples from Marci Coombs!
12. Kids will get a laugh out of these hilarious apple faces from Forks and Beans. Let them help design their own!
13. A little more labor intensive, but still super easy and waaaay too cute not to try: veggie skeleton from Feeding Four Little Monkeys.
Do you have a favorite healthy Halloween treat? Share images of what you've made with us on #knoxvillemomsblog!