The scent of turkey filled the house while my stuffed belly moaned from pure pleasure and I sank into the couch with a pile of ads. With pen in hand and notebook beside me and my mother nearby, I began my painstaking task of jotting down all the many items I needed to get the next day. We talked and laughed and passed ads back and forth from the newspaper my dad had been sent out early that morning to retrieve, and we made our game plan.
Before the sun even thought about peeking over the horizon, we rose from our beds and quickly filled our travel mugs with coffee. Then we piled into the car and set out on our grand adventure. Arriving at the store, we joined the line wrapped round the building, bundled in our warmest clothes and bouncing up and down in excitement as the slated hour arrived. The doors opened and we poured in the building, rushing to and fro in anticipation of the best sales of the season.
We spent hours driving in bumper-to-bumper traffic to hit all the sales, impossible, of course, but we tried. We visited all the big name stores: Best Buy, Target, JoAnn's, Michaels, Belk, Dillards, and all those glorious West Town Mall stores that called our names. We began with Best Buy at 5am and drove around town attempting to check off every gift on our list and make the most of our day. Stopping only for a big lunch at noon, when the traffic was finally winding down some, we made a day of our Black Friday Shopping.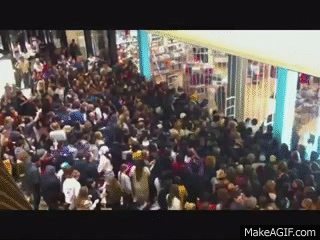 Do you remember those Black Fridays of yore? I joke, but it does feel like it's been a long time since we had an actual Black Friday instead of an entire Black Thanksgiving extended weekend.
I have to be honest: I really miss the old Black Fridays I grew up with. Y'all, I have awesome memories tied to Black Friday from growing up with this one day of amazing sales. It was a family tradition to get a bulked-out newspaper, overflowing with sale ads, and spend Thanksgiving evening going through them with my parents. We'd all make our individual lists and discuss our plans for the next day, and then, with full bellies, we'd go off to bed to sleep a bit before the morning's excitement began.
I loved waking up before the crack of dawn to grab coffee and head to the car. Now there's no excitement about getting up early because I might as well just head to the Wal-Mart or Target right after Thanksgiving dinner. I can remember the fun I had with my parents when we went on all those ridiculously early morning trips to places around town. There's a running joke in my family that Black Friday is how we found out my mom has a bit of claustrophobia. When confronted with a Best Buy that was not set up to be customer friendly, she grabbed the closest employee and asked him to find her a path out of the store if he didn't want her head to start spinning. And then there was the year I went Black Friday shopping with a group of friends, mostly guys who had never done Black Friday with me before. My future husband drove us around, and I think Target scared the guys with me. But it was a fun time out with friends, and it was all because Black Friday was just a one day thing.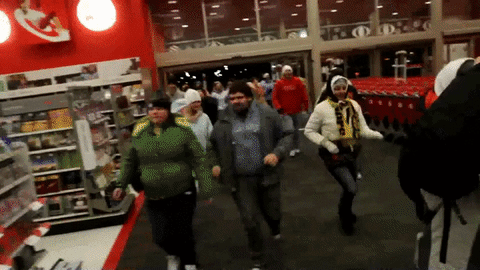 Now we have Thanksgiving sales (c'mon, why do we have sales on Thanksgiving?!), Black Friday Sales, the rest of the Black weekend sales, Small Business Sunday sales and Cyber Monday sales. It's just gotten so ridiculous, y'all. I wish we could go back to the old Black Fridays.
I can understand stores wanting to get as many people in the doors as possible. I can't understand why we needed to expand a perfectly good thing from "doors open at 5am" to "doors open at midnight" to "doors open on Thanksgiving!" Maybe I'm a traditionalist, but I just don't think sale shopping on Thanksgiving should be a thing. The whole reason we had Black Friday was so we'd have this one amazing shopping day to jump start the holiday shopping season. Adding all these extra days just ruins the excitement for me.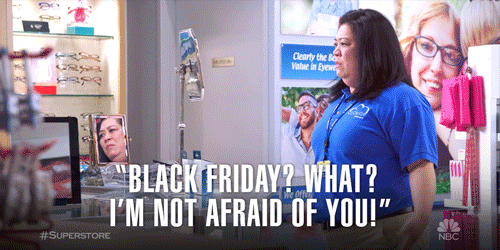 Does anyone else feel me on this? How do you feel about the Black Thanksgiving extended weekend sales? I'd love to hear your thoughts in the comments. In the meantime, I'll just be over here reading my sale ads and planning what gifts I need to buy on Friday. Happy Thanksgiving, y'all!